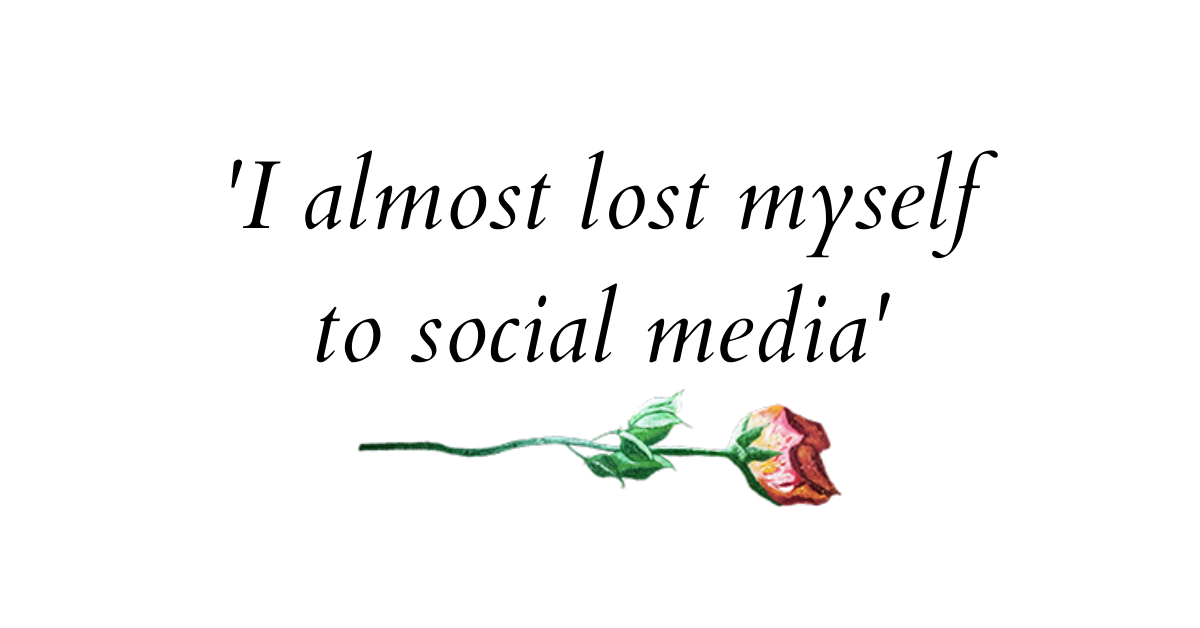 My brain needed a social media detachment.
What took place over the past weeks was excruciating. I experienced extreme discomfort throughout the healing process. 
I was suffering more than usual.  Recurring headaches eventuated into migraines that lasted between three and seven days.  It wasn't my headaches alone that were surfacing, but also my lack of sleep was becoming a concern and other mental and physical health issues that I have been putting off.
I almost lost myself.
I almost lost myself to those around me who were not favourable to the human side of me.  Forgetting that they were the very ones who leant on me when other's ostracised them. 
I almost lost myself to social media and its personalities that were surfacing into people's lives – I got caught up in it. I admit it. 
I openly admit when being almost allured by the hype of what social media has created in the human mind, was frightening. I began to feel the affects of this unhealthy affair with this social media platform as though it became a virtual partner. I saw how other's were living because of it and never did I think I would be too. Alas, I was beginning to lead my life much the same way – until I stopped myself. 
I began to feel as though I was expected to post more than once a day until I became mind boggled and was having anxiety. This anxiety was not because I didn't want to interact and help others, on the contrary, it was because I couldn't settle each day knowing that there were so many individuals who were feeling much like I was ; unheard, unloved, unsafe and lonely. 
I wanted so much to go back to the simplicity of connecting with social media that it became impossible to attain it. All was becoming extremely hard, with invented rules that were being created along the way by the masses that were preaching, co hersing, bullying, enchanting, humiliating, victimising and this list can go on and on. I just couldn't do it any longer. 
Yes, they are all ego related and are also part of being human. I couldn't keep up with the demands that were expected and the promises that were being broken; all due to me not being in the solid and familiar headspace that I have been known for. 
I couldn't keep up with others. It was as though I was becoming someone I wasn't, unintentionally. If this was happening to me, then surely it was also affecting others.  This anxiety was taking over and there was no way I was going to be able to continue my social media presence the way I was feeling.  
I got lost among the persona that I have grown and I was struggling to shrink myself down. Yes, I wanted to diminish and distinguish my very own social persona that I was. I knew I wasn't handling things well by this stage and I held off desperately from deleting all my accounts that were linked to who I was.
This was not irrational.  I later discovered that it was something that was affecting many individuals throughout these platforms. I literally felt heartbreak from the lack of humanity while my brain was pulsating with an unknown pain.  
Being a compassionate and empathetic person, each action and spoken word is felt – greater still were the silent actions that accompanied the mute sounds.  
Yes, all I have shared above and below is a real concern for our communities. 
Have you been ignoring it? 
I am currently being cared for by those who have always been in contact with me. They didn't even know I was inactive across those platforms as this is what those who love you do – reach out regardless of being reminded daily by my name showing up on their newsfeed or daily stories.  I have a fair way to go, however, I will not remain dormant for the sake of my son's and our future generations.  
Have you checked on your friends and loved ones today?
Maybe they have been unusually quiet or louder?
Have you noticed something different about them?
All I ask is to reach out to them and be patient. 
 I am human and I do not put myself above any other individual. Why? because we are all different and our coping strategies differ. 
Those who do not make a note of who contacted the other last. Those who say they will call me tomorrow and did so, even though they noticed that I wasn't returning their calls. By this stage, I was numb to communicating with other's who disappeared from my life because they had replaced our relationship with other's.  I was nursing a broken heart and spirit.
Thank you to those who asked me these simple questions that made all the difference: 
'How are you feeling?
What can I do for you?
What do you need?'
There are good people around me and those who are connected with me on the various social media platforms. I know who they are and they have no reason to question me about their credibility. They are kind, compassionate, supportive and filled with genuine love. 
They understand that I have much going on in my life, be it personal, business or social.  What they may not understand is the depth of my personal discomforts, that I have avoided to explain myself about. Not because I didn't want to, rather I felt embarrassed and overwhelmed.
After all, I am the one who helps others, not the other way around. I am the one who never says 'No', I am instead on the receiving end of the 'No'.
I understand you more than you think, please don't underestimate me.
I know pain.
I know isolation.
I know tiredness. 
I am tired. 
Tired of excuses. 
What did I learn?
My faith is greater than the lost individuals who have exited from my life and are merely existing around me. 
My faith is greater than the lack of human love that I craved from those who couldn't cope with me reacting to them similarly as they have to me.
My faith is greater than the confusion that I suffered inside of my heart and head to make sense of the past confrontations that almost broke me. Guess what? I wasn't broken, I was almost believing that I was.
My faith is greater than another's envy that then became the cruelest of  jealousy.
My faith is greater than another's fear of their past being re-enacted, due to them putting that all onto me. It is not my fault that they hold onto their past grudges they have with others and weigh me with them. 
Where am I today?
Today, I am in progress. 
Today, I am in reflection of all those 'I will call you back' messages that left me making excuses for them.
Today, I am attracting instead of being the one that chases and excuses other's behaviours. 
Today, I am one step forward from yesterday. 
Today, I am leaning to say 'No' and without an explanation. 
Today, I am closer to my next book being released and this is also a massive part of my healing. 
Today, I am the woman who is acknowledging that people may not like me when I choose to remain silent or speak my words. 
I almost lost myself, but I didn't.
I pray for my own self today as I have forgotten to do so over the many years. 
Thank you for taking the time to read my story. 
The above is written in good faith so those may become aware of how one's actions affect the other. 
Please share this with another who may need reassurance that they are not alone in this busy world filled with people.
Rosa Carrafa